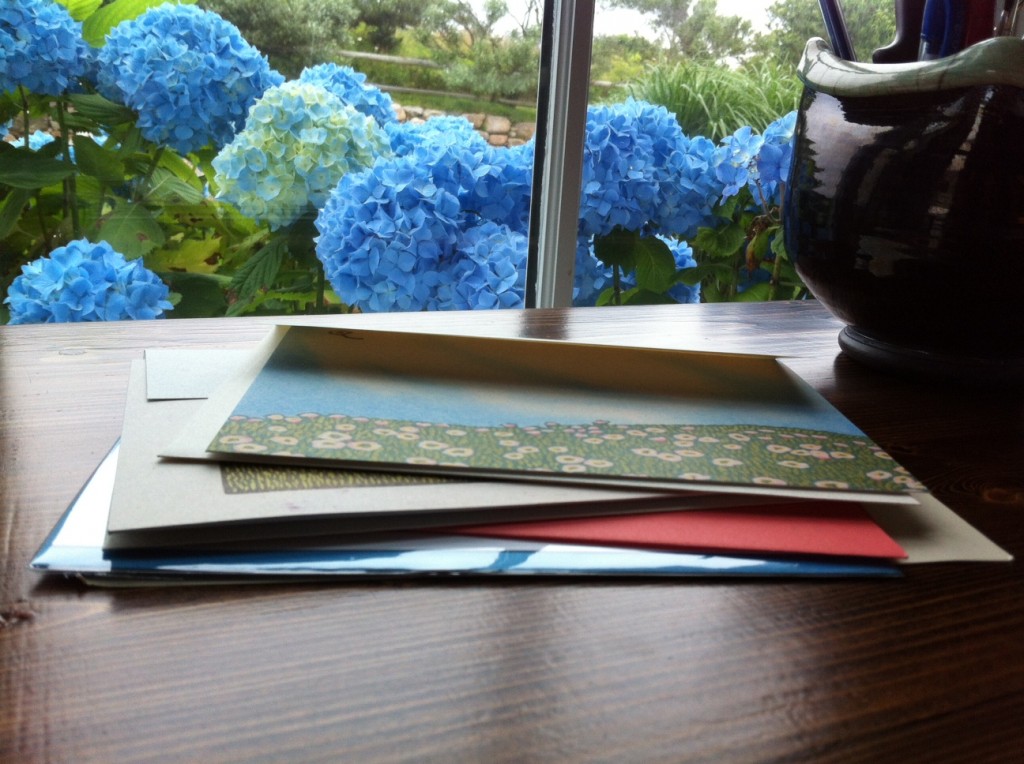 by Karen Keller Capuciati
There's a stack of long-overdue sympathy cards piled high on my desk right now. I bought them weeks ago but haven't managed to personalize any of the cards yet. Most likely, it's the trepidation of not knowing what to say that has me frozen. What if I say the wrong thing? What if I've waited too long? What if sending a card now only stirs up painful memories?
I really know better than to think any of these things. I remember how comforting it was to receive cards and letters from friends and family after my dad died. In fact, after he passed away in July of 2006, I sat in the living room of my parents' house and read through piles of cards, hundreds of them, it seemed, and it was just overwhelming to think about how many people cared enough to send along their prayers and well wishes. I went through the cards more than once, and the truth is, the written messages themselves weren't that important. Just knowing that so many people were thinking of us, trying to comfort us in that painful time, was what really mattered.
It was that kind of compassion that meant so much to Kim and Mom and me. The simple email letting us know that the sender was thinking of us; the banana cake with caramel frosting that Mom's neighbor made; the platter of sandwiches that was delivered to our door; the knowing smiles and warm hugs. It was the seemingly small acts of kindness that propped us all up during that difficult time. Remembering these moments of generosity and good will got us wondering about the various ways people show their affection and concern when a loved one has passed on, so we asked some In Care of Dad friends and contributors to share the things that helped them the most in their respective times of need.
Here are some of their replies:
The simple breakfast provided by a friend the day of my dad's funeral was much appreciated. She dropped it off, gave me a hug and left — no need to make small talk. It made getting everyone out the door on time much easier on me.
–Maggie, New Canaan, CT
When Mom passed, my sister's mother-in-law asked for some of our mom's clothing. She then made teddy bears for each child, each grandchild and each of my mom's best friends (30 teddies altogether), all out of Mom's clothes. It was so neat. It truly touched everyone. I can't tell you how moving it was.
–Marti, Muskego, WI
After my husband was killed in a terrible accident, sticking to our family's routine was a challenge. The scheduled nightly meals, which my best friend organized, were the BEST way that other folks could show their LOVE and help out. We enjoyed, as much as possible given the circumstance, the little game of wondering, "What will we be eating tonight?" It was such a relief to not have to worry about it!
–Callie, Darien, CT
My friend, Carolyn, stopped by weekly with little things — an easy meal of soup, salad and bread, lots of cards, inspiring poems, and the greatest book, which I turned to every night for a while, called The Little Book of Comfort After Losing Someone Special, by Patricia Kramer. I used that book so much, the author's name is worn away on the binding.
–Mom, the Villages, FL
The thing that stands out for me most was that, even though so many friends said "Call me if you need anything," I never did. I either didn't think of it or felt funny about actually calling and asking. What was most useful were those people who offered concrete help, such as, "I'm going to Trader Joe's on Friday — can I pick anything up for you?" Or "I made a big vegetarian casserole for our dinner tonight — can I drop some off for you?" Or "Can I stop by and see you for a while tonight?" Or the night I came home to find a cooler full of a variety of snacks at my front door. I guess the motto should be, "Don't ask. Just do."
–Cheryl, North Salem, NY
Following a loss there is typically a flurry of support from family, friends and the community. It might sound odd, but this can oftentimes make for a fun period, as families who are geographically separated are temporarily reunited, and the primary carers, who have taken on a lonely and isolating role, suddenly finds themselves surrounded and supported by others. The challenge is a few months down the line, when people get caught up in their lives again, or start to assume that the family is moving on. This is the time when the primary carers really begin to need emotional support. Grief is a long and bumpy journey, so remember that cards, flowers and hugs are appreciated early on, but being there down the road to hold a hand and offer a shoulder to cry on will be the kindest gift you can give.
–Gemini, London, England
One thing my husband did, which was very nice, was buy me a beautiful journal to write down my thoughts about my father — the good things that I remembered, etc. This way I could have it forever. I thought that was very sweet.
–Sharon, Greenwich, CT
The best time for you to reach out to a grieving loved one is any time you are thinking of them. It's a typical pattern that a grieving person receives a lot of support in the first month after a loss, but then everyone goes back to their life, and you're left alone in your grief. It was the friends and family members that continued to reach out after that first month who were the most valued. My sister called me every night for three months at the same time, just to check in, and my friend sent me a "just thinking of you" card every month for six months. Having something constant like that to look forward to at the end of every day or every month gives you something that helps you get out of bed and take a step towards a new normal without that person you lost. A great friend gives the grieving person a reason to move ahead with their day, without having to ask for it. Don't worry about being intrusive — when a friend or family member is grieving, they need support and they may not be able to ask for it, but they need it for as long as you can give it, in any way it feels appropriate to you. It will be appreciated, I promise.
–Nicole, Greensboro, NC
The simplest expressions of sorrow are really all that are needed. "I'm so sorry" or "Is there anything I can do to help?" A card or note with a personal memory of the loved one who passed on is always meaningful. Also, think about what you would find comforting in the same situation.
–Myra, Larchmont, NY
If I were to narrow down what meant the most to me just after my dad died, it was the friends of mine who were just simply present. Whether they called or emailed or sent a card — they didn't hesitate or shy away. They were willing to listen and they helped distract me for a time. They were just there, and that was important to me.
Now I'm truly inspired to write those sympathy cards and get them off to the post office. Thanks to my friends, then and now, I understand what matters. Stepping up when your friends are hurting and letting them know just how much they are loved.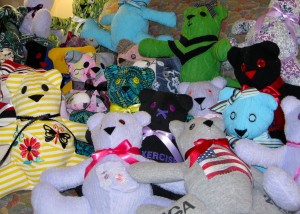 Karen Keller Capuciati is the Co-Founder of In Care of Dad.

Tags: bereavement, dealing with grief, grief, grieving process