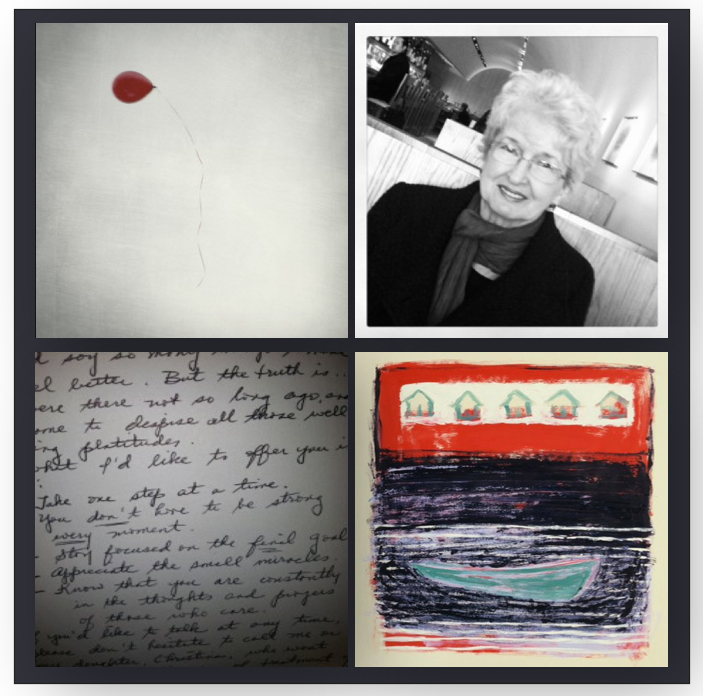 First in a Two-Part Series on Our Favorite Contributor Tips from 2012
Today In Care of Dad publishes its 200th blog!
It's an exciting milestone for us, and we love that it happens to fall on the very first day of 2013.
We're celebrating this occasion with a look back over the last year at some of the most cherished advice and inspiration that we received from our In Care of Dad community.
Take a stroll with us through some of the year's highlights:
1. "Celebrate a success every single day. If you solved even one problem, big or small, celebrate it! If your parent got through the day safely and as comfortably as possible, and you are still standing, celebrate!"
~ Joan Blumenfeld, "A Caregiver's Bill of Rights," January 31, 2012. Joan is a Geriatric Care Manager in Fairfield County, CT.
2. "Finding the humor in this journey has made it an easier one for me. I try to hold on to the many hilarious moments that have happened along the way. Cecy always had a quick wit, and I know she would appreciate the funny moments now if she could. Humor can help us to learn to let go and allow another person their journey."
~ Judy Prescott, "Reflections On Alzheimer's," April 11, 2012, a blog about her mom, Cecy, who was diagnosed with early-onset Alzheimer's at the age of 65. Judy, a poet and actress, lives and works in Los Angeles. Her most recent acting credits include Grey's Anatomy and True Blood. Last year, Judy published a collection of haunting poetry about her mother's Alzheimer's journey, entitled Searching for Cecy.
3. "Express your feelings openly and honestly in ways your siblings will be able to hear. Be direct about what you need. Expecting them to know what you're thinking will only lead to misinterpretation and resentment. And remember, HOW you say something can be more important than WHAT you say!"
~ Thalia Anderen, "We Are All In This Together: How To Encourage Sibling Help," August 14, 2012. Thalia is a clinical social worker and the Clinical Supervisor at Family Centers/The Center For Hope, a private, non-profit organization in Lower Fairfield County, CT.
4.  "Let's enjoy this day."
~ Steve Hume, "I Am That Man," April 19, 2012. These are the words of a man who was diagnosed with Alzheimer's disease six years ago at the age of 60. After his diagnosis, Hume resigned from his 30-year career as a behavioral healthcare executive and psychotherapist. Quite suddenly, he and his life partner, Candy, realized that the life ahead of them would be very different from what they imagined. Over time they've learned to live in each day, and to accept and adapt to the changes in their lives. Just listen, give space, stay involved, take care of yourself — these are some of the life lessons Steve Hume has presented to us.  And perhaps most importantly: Enjoy this day!
5. "I could say so many things to make you feel better. But the truth is, we were there not so long ago, and we came to despise all those well-meaning platitudes. So what I'd like to offer you is this:
• Take one step at a time.
• You don't have to be strong every moment.
• Stay focused on the final goal.
• Appreciate the small miracles.
• Know that you are constantly in the thoughts and prayers of those who care."
~ Christine Taylor, "The Card," June 26, 2012. Christine is a holistic health counselor and health educator living in Hampton Bays, NY.
6. "Yet it began when I made a decision. Somewhere along the way I'd had enough. Grief had come into my life uninvited. Until it showed up, I'd been a happy-go-lucky person — I was sure this negative state didn't fit my personality profile very well. So, I remember waking up one day and thinking: 'Enough. This isn't who I am. I don't have to feel this way anymore.  I'm choosing this, and I can make another choice.'
"Now, by this time I was pretty good at doing 'grief'.  Prior to losing Mom I'd also been good at joy, hope, trust, and laughter.  So I wrote my Mom a note, telling her that it was time for me to remember her with love, but I was in need of a new beginning.  I attached the letter to a beautiful red helium balloon, which I took to release at her graveside.  As it floated heavenward against the clear blue sky, I drifted too, into a new place possibility, infused with healing, hope and happiness."
~ Gemini Adams, "When Does Grief End," March 22, 2012. Gemini is an award-winning British writer and grief expert.  Her latest book is Your Legacy of Love: Realize the Gift in Goodbye.
7. "Yes, there have also been times when Mom has become angry, upset, stubborn and seemingly irrational — indeed, some might deem her as being 'noncompliant' — but my goal has always been her happiness. So, unless she was doing something dangerous, I made sure that she felt comfortable and loved and supported, even when she would choose to sit for an hour or two with a laundry basket on her head."
~ Beth Whitman, "Stay-At-Home Mom: A Daughter's Journal," September 4, 2012. Beth lives in Belfast, Maine, and is a member of Belfast Cohousing and Ecovillage, a developing community on the coast of Maine focused on multigenerational living and sustainability.
8. "As I get older, and especially after surviving cancer, I've decided it's vitally important that I leave some kind of guide for my teenage son. I want to share with him my inner thoughts, my memories and stories, and my hopes for him and his future. These desires have lead me to explore legacy writing, the act of documenting your experiences and values through letters that are kept sealed until the reading of your last will and testament. The whole idea struck me as a wonderful gift, to both my family and myself, linking me to my own history, giving purpose to my life and helping to preserve family traditions after I'm gone."
~ Lisa Wolfson, "Eternal Letters," May 30, 2012. Lisa lives in Rockville Centre, NY, and she is the Program Director at You Can Thrive!, an organization that provides free and low-cost support services for breast cancer survivors.
9. "It's a struggle, and I'm exhausted doing the work," Mom said.  "Everyday I wake up thinking, 'Okay, today everything is going to be the way it used to be.' And then it's not.  But I just can't give up. I want to be better. I keep telling myself, 'You have to do this, Sandra.'"
~ Our mom, Sandra Keller, from "Our Mom Shares Her Keys To A Successful Stroke Recovery," April 2, 2012.
10. "Help others. Volunteering at a shelter or food pantry is a great way to experience gratitude for the good things in your own life."
~ Ed Moran, "Kicking Those Holiday Blues," December 27, 2012. Ed is a clinical social worker at Family Centers serving Greenwich, Stamford, Darien, New Canaan, CT, and Westchester County, NY.
We are grateful to all the thoughtful, caring contributors in the In Care of Dad community. And we are so proud of the group we have built here with your help. We thank you for your support, from the bottom of our hearts. We wish you all a new year filled with love and laughter and the best of health.
We would like to thank Mohamad Itani (top left) and Christine Taylor (bottom left) for the use of their photographs and Anne Gresinger (bottom right) for the use of her artwork. Karen Keller Capuciati took the photo of our mom (top right).