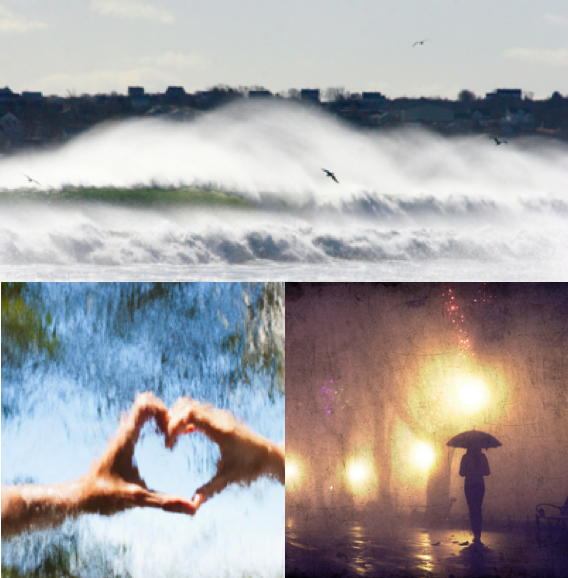 by Kim Keller
I remember when I was a kid, rolling my eyes at my parents when they'd talk in wonder about how fast time goes by. Of course, that was a long, long time ago, and here I am now thinking, where did 2014 go? I don't roll my eyes any longer. Now I just smile knowingly.
And at the end of December, my parents would sit around and reflect on all that had happened that year. I thought it was kind of silly then, living in the past and all, but I see the wisdom in that now, too. You should always bring along the lessons and whatever good life has to offer.
In that spirit, here's a look back at In Care of Dad in 2014:
"I will never leave you — no matter what happens I will always be with you."
Unbeknownst to both of us at the time, those would be the last words my father would ever say to me. That one sentence would carry me into my fatherless future, like a road map to guide me on the sometimes perilous, sometimes heartbreaking, always blessed journey of my life.
— Ann Meyers Piccirillo, Always Your Daughter, January 22, 2014.
A proper diagnosis process should start with the primary care physician, especially if that doctor knows the patient well and can discern irregular behavior and altered cognitive ability. If you have a friend or loved one suffering with symptoms of dementia, make sure their family has a conversation with a physician to talk about what people are seeing. Make sure the doctor understands the full scope of the behavioral changes. Ask the doctor to take you through the process of ruling out other medical issues that could be responsible for any alarming changes in cognition that might be mistaken for Alzheimer's. Typically, a diagnostic evaluation would include a lengthy patient history, a full medical and neurological exam to rule out medical causes of the cognitive changes, neuropsychological testing (a series of paper and pencil tests that may take an hour or more), and, in some cases, various types of brain scans.
— Paul Raia, The Many Sources Of Dementia: Getting The Right Diagnosis, March 19, 2014.
That has helped me a lot, to know at the end of his life, as he was edging over, the blue sky was good for my father. The thing itself, the blue sky — something so simple and fundamental about living on this particular planet — it was the only thing left for him when everything else was taken away. And that was enough. That and his courage, my whole family's courage during that time, helped me afterward, and it still helps me now.
I keep thinking of my many friends who've had recent losses, of all of our losses, and the fact that death is a part of life. It seems everyone I know is touched by grief and that this heartache comes in many forms. There is grief like I have for my father. There is grief out of sequence and grief that leaves no place or no future, and grief that includes the destruction of love, of trust and hope and identity — grief that undermines history and dignity, even faith, faith in anything. I know that grief can be like waves or like fire or like a frozen lake, or like falling. I know that answers — and no answers — come to each of us in our own way and in our own time.
— Grace Bochain Luddy, Remembering Dad, April 9 2014.
The women coordinated their visits to coincide with the major transitions taking place for their father. The sisters conference-called weekly to provide updates and decide upon future steps. Mary was an accountant so she was tasked with handling their dad's financial and legal affairs, including funeral arrangements. Sarah was a nurse, so she took charge of any medical issues that arose. Ellen was the closest geographically and was thus able to visit more frequently and stay longer — she was able to more closely monitor the care their dad was receiving.
"Working with my sisters to coordinate Dad's care was like a full-time job," said Sarah. "Thank goodness for technology. Having the ability to Skype and FaceTime allowed us to keep a physical connection with each other, which was critical when we had to make those tough decisions. It was nice to be able to see my sisters and cry with them, even though they were miles away."
— Myra Marcus, Successful Caregiving: One Families Strategy, April 30, 2014.
Touching or gently holding someone's hand while they are going through a difficult time can be very comforting. This small gesture will help the person feel safe and reassured.
— Lisa M. Wolfson, Healing With The Touch Of Your Hand, May 21, 2014.
Estelle enjoyed the view, so aware of the beauty, the treat of a cold beer on a warm day, and the fun we were having by doing something completely outside her routine.  She mentioned that she has a lot of family members checking on her all the time, and I told her she was lucky to have so many people who love her. She agreed, and solemnly told me that love is the most important thing in life.
I felt blessed and happy to be in her presence. I felt a real kinship with Estelle, as we both love the area we live in and appreciate the seasons and the gorgeous vistas. I enjoyed her smile, her stories (which she has probably told her family members many times), and her willingness to have an adventure. I enjoyed knowing more about my friend's heritage and the woman who raised her.
— Lisa Bassi, A Beer For Estelle, July 9, 2014.
For men of Joe's era, there were five items that offered daily security: wallet, keys, money, handkerchief and pocketknife. These objects were likely found on Joe's person for nearly his entire lifetime, at least until his admission to a nursing facility wherein the items allegedly became superfluous. And while Joe may no longer be able to realize what he is looking for when he taps his pockets, there is a certain cell memory created by a lifetime of having derived security from these items. Now, however, their absence was causing a reaction in Joe, a reaction that caretakers pin on the AD rather than trying to intuit a specific motivation. The facility personnel simply label the behavior as agitation and treat it with medication.
When Jolene [Jolene Brackey, author of Creating Moments of Joy for the Person with Alzheimer's or Dementia: A Journal for Caregivers] later noticed how Joe kept picking up napkins in the dining room, she realized that Joe was missing his handkerchief. "Since we are a Kleenex generation," Jolene explained, "we don't even realize we are taking something away from him. It's not in our context."
But a hankie tucked in his pocket gave Joe his security back. "And if it's a hankie that helps, how much does it cost to buy 100 hankies for Joe?"
In the end, as Jolene notes, "When they feel secure, our day gets much easier."
— Karen Keller Capuciati, Breaking The Alzheimer's Code: One Hundred Hankies For Joe, August 13, 2014.
Peace, Love and Healing [by Dr. Bernie Siegel] is a beautifully written exploration of mind-body communication. Using anecdotes and scientific research, Dr. Siegel writes about the innate ability in each of us to participate in our own healing. Based on common traits he has observed throughout his long career as a cancer surgeon, in patients who thrive in the face of a grim diagnosis, Dr. Siegel writes, "Love and peace of mind do protect us. They allow us to overcome the problems that life hands us. They teach us to survive . . . to live now . . . to have the courage to confront each day." This book was a source of strength and comfort for me during my experience with cancer, and I continue to appreciate its hopeful and empowering messages to this day.
— Christine Taylor, The Breast Cancer Toolbox: Ensuring The Best Possible Outcome, October 15, 2014.
So many caregivers struggle to find purpose after the loss of a loved one. Not only are they grieving and desperately missing the person who's passed on, but other factors crop up as well, depending mostly on the nature of the relationship. Every individual moves forward at their own pace, and there is no wrong or right way to start picking up the pieces.  "I am learning to just take one day at a time," Mary confided, "not to expect too much of myself and to remember to reach out to family and friends on days when things are particularly tough."
— Linda Weatherseed, Building A New Life After Loss, November 19, 2014.
As Karen and I reflect on 2014, we are deeply grateful to all of our contributors who have so generously taken the time to share their personal stories and their wisdom in the hopes of making a difference in someone's life here in the special little community we've all created together. We are tremendously grateful to all of you, and we wish you and your loved ones all the happiness, love and laughter that 2015 is sure to offer.
Kim Keller is the Co-Founder of In Care of Dad. She lives and works in New York City.