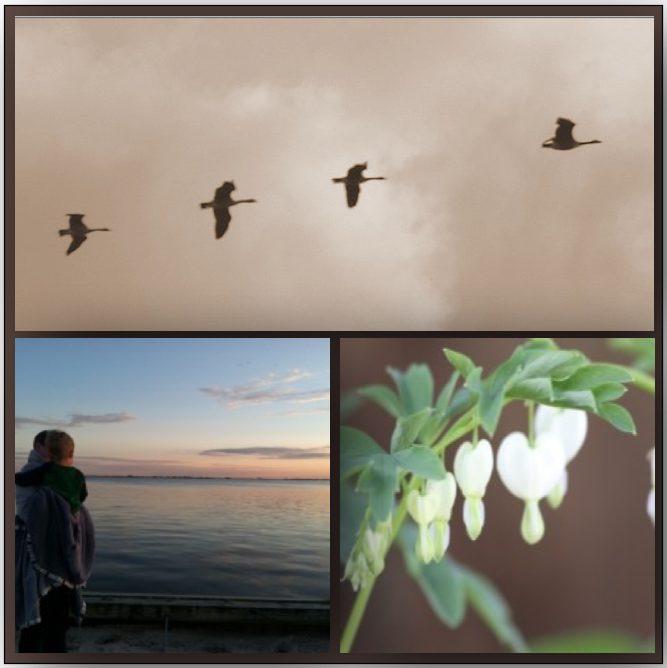 Second in a Two-Part Series on Our Favorite Contributor Tips from 2012
Before we plunge headlong into 2013, we thought we'd take a few more moments to review our favorite bits of insight and encouragement that graced the In Care of Dad pages last year. One blog just wasn't enough to cover all the highlights of 2012, so we're going for two!
1. "There are many beautiful gifts that can be gathered during a journey through hell. When it's all over, no matter the outcome, you can leave the ugly behind, keep the gifts, and be stronger, happier and less lost than you were before . . . "
~ Christine Taylor, "Guided Imagery: Opening The Door To Wellness," April 4, 2012. Christine is a holistic health counselor and health educator living in Hampton Bays, NY.
2. "Breathe: You can only do one thing at a time. Focus on today, the here and now. Take time once a day to just breathe — ground yourself in the present. I know it sounds cliché, but it's true. When you start to feel overwhelmed, ask yourself, how does an ant eat an elephant? One bite at a time. Not only are you grounding yourself, you may even laugh."
~ Amanda Romaniello, "Caregiver Guilt, The Perpetual Disquiet," June 14, 2012. Amanda is a clinical social worker at Family Centers and the agency's Coordinator of Clinical Services for Darien and New Canaan, CT.
3. "Have a support system in place, for both your loved one and yourself. Develop a relationship with your loved one's doctor so they can alert you to any potential crises. Have a team of trusted family members or friends who can help out when there's an emergency and provide emotional support. Your support system also should consist of those people who remind you that you need to live your life, too. Having your support system will help you keep moving forward and give you a boost when you need it."
~ Andrea Francisco, "Lifting The Veil On Manic Depression," September 10, 2012. Andrea lives and works in the New York metropolitan area.
4. "Moving closer to adult children is sometimes a good solution for the care of elderly parents, but sometimes it's not. Don't rush to make such a move even when it looks tempting. Take time to consider it from every angle. What is to be gained? What is to be lost? What problems are likely to be solved by the move? What new problems might it create? Most importantly, this is not a time for beating around the bush by any of the parties involved. It is a time for open, honest communication and hard conversations."
~ Joan Blumenfeld, "Stranded In Connecticut," October 16, 2012. Joan is a Geriatric Care Manager practicing in Fairfield County, CT.
5. "A god box can have many meanings and be used in various ways. The use that resonates with me is having a physical place to tuck away the things that concern me that I know I cannot fix now, or possibly ever. This is where I have always struggled in the past. Things feel daunting and I find it hard to let go of the unresolved feelings. I now write down what is unresolved, evaluate whether I have tried my best, and then tuck it away in my god box. The act allows me to accept that the resolution of this situation is beyond my control and I am offering it up to someone or something beyond me to resolve. Simply put, it helps me feel that I am taking responsibility by acknowledging the issue and recognizing I can't resolve it."
~ Lisa Wolfson, "Handling Stress With A God Box," October 4, 2012. Lisa lives in Rockville Centre, New York, and she's the Program Director at You Can Thrive!, an organization that provides free and low-cost support services for breast cancer survivors.
6. "It's important to have a candid conversation with your parent. Ask open-ended questions to get them talking. For example, you can say, "You seem to be feeling down.  What's going on?" The most important thing you can do for any depressed individual is listen and validate their feelings. Active listening and empathizing with the person are both key. Empathize with your parent by saying, "I can only imagine how you must feel." In order to cope, your parent needs at least one significant person in his or her life with whom they can discuss their feelings, someone to confide in. Be that person for your parent and start by listening and validating their feelings."
~ Allison Plunk, "Answering The Anguish," July 17, 2012. Allison is the Friendly Connections Coordinator in Lower Fairfield County, CT.
7. "I suggest that you start a behavioral log, charting just that one behavior, over a week or two. Then look for any pattern in your accumulated evidence.
Here is a series of questions that can help you when sleuthing.  Was the behavior caused by:
A sudden change in the person's behavior?
Your approach with the person?
The communication methods you were using?
Too much or too little stimulation?
The task that you asked the person to perform?
Once you have an idea what the trigger may be, you need to determine the simplest way to undo its influence. Remember, all interventions require you to change what you do or change the environment. In other words, people with mid-stage AD are not able to resolve the behavior themselves."
~ Paul Raia, "Sleuthing Troublesome Alzheimer's Behaviors," May 17, 2012. Dr. Raia is the Director of Patient Care and Family Support for the Alzheimer's Association's Massachusetts/New Hampshire chapter.
8. "There is a bit of magical thinking required to endure such a complicated journey with a loved one. We tell ourselves, she "looks great," she's "healthy as a horse," she's "gaining weight." How else could we manage such a slow, painful descent into the maelstrom?"
~ Judy Prescott, "So Many Goodbyes Along The Way," June 11, 2012.
9. "Be grateful for what you can do — I have to remind myself that, even though what I'm going through is hard, it could be worse. I need to focus on what's positive. Otherwise I couldn't keep going. And I really do have so much to be grateful for."
~ Our mom, Sandra Keller, from "Our Mom Shares Her Keys To A Successful Stroke Recovery," April 2, 2012.
10. "In the light of the moon's beautiful glow, I feel Dad looking down on me. In these moments, he is with me. Although I am still healing, these moments offer me the simple promise of peace."
~ Rebeka Burr, "A Promise Of Peace," May 23, 2012. Rebeka lives and works in New York City.
At In Care of Dad, two more quotes always come to mind: "What goes around comes around" and "When you give love, you get love." Everyday we see the spirit of these adages in the personal stories and lessons of our caregiving community. And like the two retrospective blogs we ran this week, we are reminded that some pieces of advice and encouragement should always be kept front and center. So let's carry these thoughts into 2013 and stay charged and focused for the difficult tasks ahead. Thanks to all of our In Care of Dad contributors for blessing us with their love and their open hearts, and creating one of the most supportive and helpful networks of practical caregiver wisdom anywhere on the web.
We would like to thank Helen Forsyth Richardson (top) and Matt Taylor (bottom left) for contributing their photos.  Karen Keller Capuciati took the shot of the Bleeding Heart (bottom right).